About Digital Aerials Limited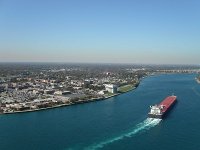 Pilot entrepreneurs Ron Tedball of Sarnia and Mark Poissant of Chatham started the business in 2002 with the mission statement:
"Digital Aerials Limited offers aerial photography for business, media, art forms and web site applications using state-of-the-art aircraft and digital camera equipment to capture the finest images at the most competitive prices."
To-date we have taken thousands of aerial photographs and are proud to have many satisfied customers.
Our unique use of radio control helicopters along with conventional aircraft to take the photographs, combined with our "Customer gets exclusive rights to all digital photos taken" approach has had considerable appeal.
We would welcome an opportunity to quote you a price and fly a custom photographic mission on your behalf.
We hope you will peruse and enjoy the sample photographs in our web site. Click on thumbnails for larger photographs, thank you.